By using the school calendar, you can view events, homework, and daily attendance. You can set preferences that determine which events display on the calendar so you see only the information that is important to you.
Click Calendar.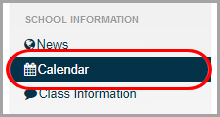 The "Calendar" screen displays. If this is the first time you are accessing this screen, the "Calendar Setting Preferences" popup window automatically displays and prompts you to set your calendar preferences.

If you would like to change your preferences in the future, click Settings, update your selections and then click Save.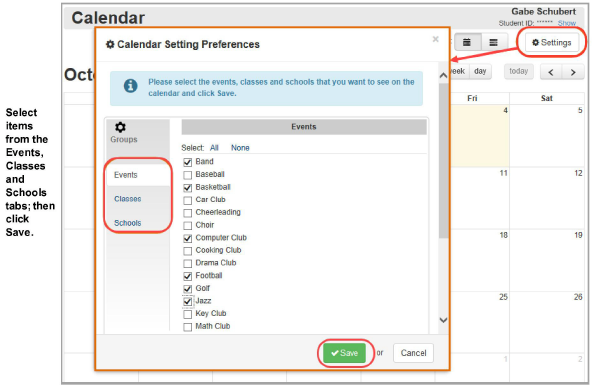 Click the Events tab. Select the check box corresponding to each event category you want to see on your calendar.

Likewise, you can click the Classes or Schools tabs and then select the check box corresponding to each class or school whose events you want to see on your calendar.

Click Save. The calendar displays events based on the selections you made.

Events are color coded. Pastel orange indicates homework. Red indicates daily attendance. Paster blue indicates district and school events.
Optionally, to view detailed information about an event, click the calendar item.
Optionally, to view a list of events by date range, click the menu button adjacent to "View". The events now display in list format.

Optionally, to view events for a different date or date range, do one of the following:

Click Today, This Week, or This Month to view events for those dates/ranges.
Enter a Start Date and End Date (or select the dates from the calendar date picker). Then click the Refresh button. The events for the selected date or date range display.