You can review the school, address, demographic information, and notes (medical, disability, custody, and miscellaneous) on file for your child.
Click Student Profile.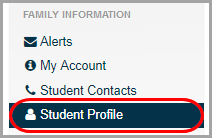 The "Student Profile" screen displays. Review the information.
Caution: Based on your district's settings, you may not be able to view the student address or notes even if you can view the Student Profile. Additionally, If a red caution symbol displays next to a medical note, the issue is life-threatening. If it displays next to a custody note, the issue is critical.